Acting
Selected theatre: Since moving to Vancouver in 2012, Leanna has been nominated for two Jessie Awards and appeared in Terminus (Richard Wolfe, Pi Theatre); the Canadian premiere of Samuel Beckett's All That Fall (Duncan Fraser, Blackbird Theatre); Gertrude Stein's He Said It (James Fagan Tait, Radio Free Stein); Sally Stubbs' And Bella Sang With Us (Sarah Rodgers and Ian Harmon, Vancouver Fringe Festival, Pick of the Fringe, and Firehall Arts Centre) and in her French-language début in Michel Tremblay's Bonjour, là, bonjour (Gilles Poulin-Denis, Théâtre la Seizième). As a Toronto-based actor, she worked with directors like Brendan Healy, Daryl Cloran, Sue Miner, Guillermo Verdecchia, Soheil Parsa, Dean Gabourie, Susan Ferley, Jon Michaelson, Greg Kramer, and Carmen Aguirre, at companies from the Grand Theatre (London) to Buddies in Bad Times and Theatre Passe Muraille. She was also recognised by NOW Magazine in their annual list of Top Ten Toronto Theatre Artists. Upcoming: the lead role in Andrew Gillingham's short film Gravitas, and Queen Elizabeth in Camyar Chai's King Richard III and his Women for Seven Tyrants (Vancouver).

TV and film: When We Rise, Six, Gravitas, A Wife's Revenge, No Men Beyond This Point, Parallel, Mayday, Télé-Litté, The Morrison Murders, Road to Avonlea, ENG, and The Humanity Bureau with Nicolas Cage.

For industry professionals: my headshots and resumé can be found here. Or you can contact my talent agent, Corey Menzies at KC Talent.
Terminus, by Mark O'Rowe
Pi Theatre. Directed by Richard Wolfe. Set by David Roberts, costumes by Carmen Alatorre, lighting by Alan Brodie, photography by Ian Snow. A dark, demonic thrill ride through the streets of Dublin. Horror, laughter, pathos, and adrenaline... achieved with nothing but the writer's words and actors' bodies. I was very proud of this show, which was nominated for just about every Jessie Award in Vancouver (and won a few, too, including Best Production).
One show, three characters. The Parisian waitress...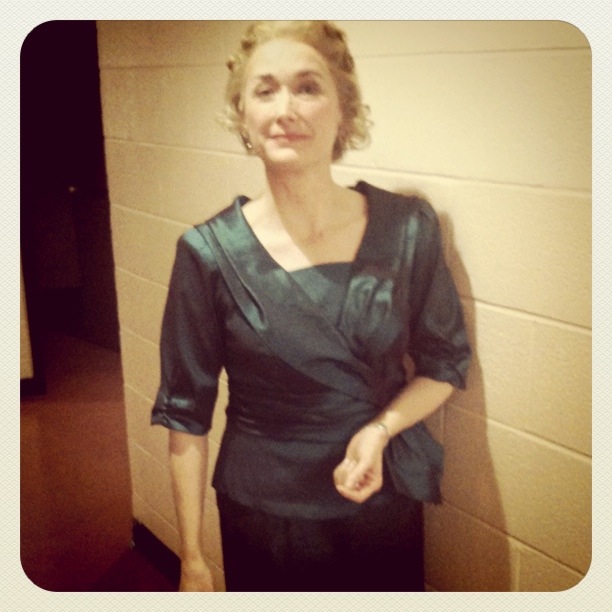 ... and Julia Child's partner, Simone Beck.
Backstage at To Master The Art, by William Brown and Doug Frew, directed by Susan Ferley, The Grand Theatre (London, 2011). Costumes by Pat Flood. The fastest character change: from the old market woman into this party outfit in about 2 minutes, with the help of a fabulous dresser. (Personal photos)
 
Q&A after Théâtre la Seizième's production of Bonjour, là, bonjour, 2017. L-R: Annie Lefebvre, Thérèse Champagne, me, Lyne Barnabé, Siona Gareau-Brennan. Our ensemble cast was nominated for a Jessie Award.