After Me, by Christian Bégin
[Translated from Après moi]

In a motel off a snowbound northern highway, three rooms are in use. In the first, a man and woman will commit adultery for the first time. In the second, a couple will make love for the last time. In the third, a lonely man prepares to die. In each room, a singular, extraordinary event will occur. And then the whole sequence will begin again... After Me is six versions of the same story, six ways of experiencing the same moment with increasing intimacy. When the doors start to open, how will these five lost souls begin to change each other's destiny?

Cast size: 2F/3M
Translation commissioned and premiered by Ruby Slippers Theatre, directed by Diane Brown (Vancouver, 2015). Nominated for 5 Jessie Awards, including Best Production, with 2 wins (Best Actor Scott Bellis, Best Actress Jennifer Lines).

"Intimacy, loss, and the tenuous thread of our connection to others are the themes... ambitious and beautifully realized..." – Kathleen Oliver, The Georgia Straight

"The simplicity, honesty and intimacy... is breathtaking. The script is riveting, intelligent, profoundly moving and a superb example of all that live theatre can and should be: a communion, a coming together." – Jo Ledingham, Vancourier
For more information about Christian Bégin.
SIMONE: The motel's empty! I don't think there's anyone here except us... I mean who'd want to come here in the middle of February when it's minus a thousand outside? Nobody. Not even if they just wanted a nice place to croak... So what about you... What are you doing here all by yourself? Did you get a flat tire? Are you a travelling salesman? Did your wife kick you out? Because you have to be really seriously desperate to end up here... Right?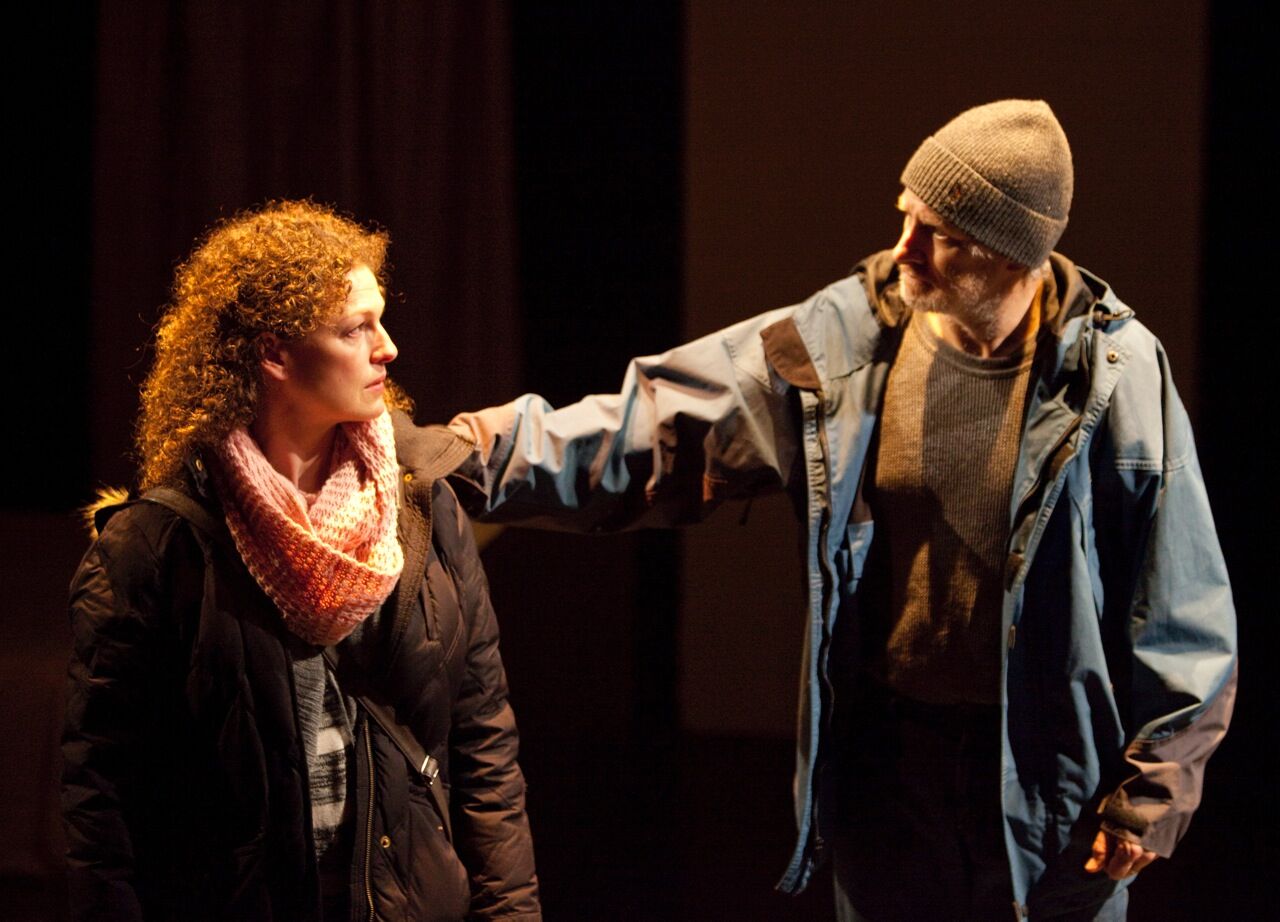 Jennifer Lines and Scott Bellis
…received Vancouver's Jessie Awards as Best Actress and Best Actor for their work in this production.
Dawn Petten, Chirag Naik
Scott Bellis, Chirag Naik
Baobab, by Hélène Ducharme
In this story, inspired by West African legends, an ancient baobab tree stands tall amidst a persistent drought. One day the tree brings forth an egg and from the egg is born a little boy. The villagers recognize that this little boy is the only one who can undertake the quest to bring water back to the land. But there are three formidable tasks to be completed before success is possible. Can a little boy change the history of the world? Using puppetry, masks, and percussion rhythms, Baobab makes powerful change come to life.

Théâtre Motus' acclaimed production of Baobab (with the collaboration of Mali's Thátre Sô) has had over 550 performances across North America. It won Toronto's Dora Award for best TYA (children's theatre) production, and was the runner-up for the Victor Prize at IPAY, North America's premier showcase of children's theatre.
Cast size: 4 performers including 1M, 1M or F, and 2 musicians.
"In short, this Baobab is thoroughly delightful. You'll thank your children for being born and allowing you to be part of this heart-warming celebration!"
– Le Devoir
Baobab
Excerpts from the Théâtre Motus production, written and directed by Hélène Ducharme.
From Alaska, by Sébastien Harrisson
(Translated from D'Alaska)

Winner of the Prix de la critique 2007-8. Nominated for the 2007 Governor-General's Award for Drama. From Alaska will have its world premiere in 2020 at Gateway Theatre in Vancouver BC, in collaboration with Ruby Slippers Theatre.
One summer evening, a retired librarian is "taken hostage" in her suburban home by her tough-talking teenaged neighbour. Time passes with the unpredictable rhythms of grief – the slowness of healing, the fast-forwards of distraction. Meanwhile, the old woman and the young man discover what they have in common: the one they love most in all the world has just gone away... Moving effortlessly between street-smart humour and lyrical elegance, Harrisson explores love in all its pain, confusion, and unexpected joy.

Cast Size: 1F/1M
D'Alaska toured for three years with Montréal's Théâtre Bluff. Leanna Brodie's English translation was the first project of the Québec Translation Exchange at the Banff Centre in 2008. It subsequently had a public reading by Theatre Direct, and also by Canadian Stage as part of their Festival of New Ideas and Creation.

"Through his lively and intelligent text, which combines humour and sincerity, Sébastien Harrisson managed to captivate his audience from start to finish. D'Alaska [From Alaska] is a lovely success that warms the heart."
– La Presse
"It is a play about coming to terms with identity, be it social, political, sexual, linguistic, generational, or intellectual. Solid in content and intriguing in theme, it had teenagers jumping to their feet for a standing ovation at a recent school performance."
– The Montreal Gazette
"It goes by very fast... an incredible text."
– Radio-Canada
The poster for the 2020 Vancouver production from Gateway Theatre and Ruby Slippers Theatre (Vancouver BC)
D'Alaska [French-language version]
An excerpt from the recent production of the original French-language text by Belgium's Théâtre du Peuple Bussang. Directed by Vincent Goethals, with Marie-Claire Utz and Sébastien Amblard. Photography by Jean-Jacques Utz.
Gametes, by Rébecca Déraspe
(Translation of Gamètes)
How do modern young women negotiate love, ambition, and reproduction? What are the lines we can never cross, not even for a friend? In this age of trolling and tribes and irreconcilable views, do we ultimately love our opinions more than we love each other? Acclaimed Québec writer Rébecca Déraspe tackles female friendship, sexuality and fertility, self-fulfillment, and other stuff that shouldn't be so damn funny, as Anne's pregnancy threatens her relationship with her lifelong friend Lou. This poetic yet no-holds-barred two-hander features virtuosic transformations as two actresses play both the BFFs and all the people who have shaped their lives over the years. Another comic triumph from the author of You Are Happy, Gametes won the Montreal critics' prize for best new play of the 2016-17 season.
Cast Size: 2F
This translation was commissioned by Ruby Slippers Theatre and supported by a grant from the Canada Council for the Arts' Theatre International programme. It was developed at the Glassco Residency in Translation with the support of Playwrights Workshop Montreal, the Glassco family, and the Cole Foundation. A public reading will be presented by Ruby Slippers as part of the Advance Series of new work by women at the Vancouver Fringe Festival on Sept. 10, 2018. The director will be Leanna Brodie.
"I really, really love this production...a tender and ferocious play, a play that presents two intelligent young women who are absolutely believable in their self-examination and disarray when life throws one of them a curveball. One of the few times I have ever seen an onstage representation of female friendship that is powerful and true." – Huffington Post
"Undeniably one of the most promising voices of the last decade" –revue.leslibraires.ca
"By presenting the views of strong women for whom motherhood is not a given, Rébecca Déraspe gives voice to a segment of the female sex which is rarely represented onstage." –labibleurbaine.com
"Tells the story of a moment of crisis between two fast friends, with sensitivity and humour." – Le Devoir
"...questions the inherent paradoxes of an age where we are defined by our opinions." – Voir
"GAMETES, a nuanced text on female fulfillment, examines the force and complexity of the friendships between women. In a society that continues to dream of equality between the sexes, Lou and Aude, two inseparable thirtysomethings, have no secrets from each other. But when one of them finds that she is carrying a baby with Down syndrome, it throws a spanner in the works. Intelligent, funny, and moving, the unifying feminism of GAMETES avoids the pitfals of pamphleteering to guide us from the intimate to the universal. GAMETES is a success." – Jury citation, Critics' Prize for Best New Montréal Play of 2016-17.
More info about Rébecca Déraspe here.
LOU: Why don't you adopt?
ANNE: Because we don't have that kind of colonialist empathy, and because we want to have our child.
LOU: Your child?
ANNE: Yes.
LOU: Do you discuss your DNA while you're making love?
ANNE: Bye Lou. Have a nice life.
Gamètes at La Licorne
L-R: Dominique Leclerc and Annie Darisse of Les Biches Pensives. The director was Sophie Cadieux. Photo: Jérome Leclerc. Further production and design credits here.
I Am William
[Translated from Je suis William by Rébecca Déraspe. Music by Chloé Lacasse and Benoit Landry. Lyrics translated with Ariane Bisson McLernon.]
Named Best Play for Young Audiences of the 2017-18 Season by AQCT, the association of Québec theatre critics.

I Am William had its world premiere at Les Coups de coeur in Montréal (November 17, 2018)

When Margaret Shakespeare – William's sister – writes her remarkable plays, she must do so secretly, under cover of night… because in 1577, a girl of thirteen who can read and write is in danger of being burned as a witch. And after all, as her intimidating father keeps reminding her, a woman's place is in the home… next to a big pile of laundry. Once the sweet but decidedly average William discovers his sister's astonishing talent, a chain of events is set in motion that will change both their lives forever. What happens to women of genius in a world that wants only to silence them? Can a sister's determination, and a brother's unfailing love, really conquer all? This musical tackles the big feminist questions with wit, brio, and infectious energy.

Cast size: 2F/1M

This translation was commissioned and produced by Théâtre le Clou. The director was Sylvain Scott.

The young protagonists of I Am William explicitly aspire to the total emancipation of girls and boys from our gendered expectations of them. A text as playful as it is intelligent, and as sensitive as it is politically engaged. Its sense of humour, among other things, ensures that the script never veers into the didactic, much less into moralizing. – JEU magazine
Through this story of two siblings, Déraspe sheds light on the inequalities and injustices that held women back for so long. - Le Devoir
I Am William turns this fragment of the sixteenth century into a magnifying mirror of our own era. Because, to this day, being born a boy or girl dictates at least part of the road we take. – theatre-contemporain.net
Rébecca Déraspe offers us a brilliant text, blending truth and fiction in order to speak of love and of the power of dreams. - montheatre.qc.ca
…Yes it's a play for adolescents, but it was written for whoever is interested in the subject [of the place of women and girls in our society]… and in my humble opinion, there's something in it for everyone – La Bible Urbaine.
An inspiring play for all ages. - Huffington Post
More information about Rébecca Déraspe
MARY: He's afraid you'll bring shame on our family with this questionable behaviour.
MARGARET: "Questionable behaviour"? What does that mean?! I do everything by the book. I hold my tongue; I hide my tears; and I wash his clothes. Questionable behaviour? I could write and become the greatest author of all time, and still he would hate me, for women who have the audacity to want to speak are all witches who should have their heads cut off. Questionable behaviour? When his sons get tangled up in the slender thread of life, he sustains them with all the love in his heart. But when a daughter of his says "no", she gets a faceful of his fury. And I'm the one with questionable behaviour?
MARY: Don't cry. There, there. Don't cry. I didn't understand a word you just said… but stop crying.
Je suis William [I Am William] by Rébecca Déraspe
Photo by François Godard. Directed by Sylvain Scott for Théâtre Le Clou. Costumes by Linda Brunelle. Lighting by Luc Prairie. Make-up by François Cyr. Wigs by Géraldine Courchesne. Chandelier by Nathalie Trépanier. L-R: Édith Arvisais, Simon Labelle-Ouimet.
I Lost My Husband! by Catherine Léger
(Translation of J'ai perdu mon mari)

Evelyn loses her husband in a bar bet. The thing is, she's not entirely sure she wants him back. A smart, feisty, sneakily feminist comedy about the important things in life: love, freedom, karaoke... and never letting frozen yogurt stand in the way of your dreams.
J'ai perdu mon mari broke box office records in its original, French-language production. The world premiere of I Lost My Husband also broke box office records at the Gateway Theatre, selling out every seat of the run.

This translation was commissioned by Ruby Slippers Theatre and supported by a grant from the Canada Council for the Arts' Theatre International programme. A public reading was presented by BoucheWHACKED! Theatre and Ruby Slippers as part of the rEvolver Festival's Ta Gueule reading series. The director was Diane Brown.

Cast size: 2F/2M (or 2F/1M with doubling)

"Behind its eccentric premise, and the great bursts of laughter that it provokes, lies a script that tackles some of the big, super-current issues in an original way." – Jeu Magazine
"It was eighty minutes of fun." – Jo Ledingham Theatre Reviews
"By approaching current subjects with a light touch, Catherine Léger makes the play accessible to everyone." – La Source
"Non-stop hilarity... This sold-out show will only have rush tickets for people who want to see it. But if you can cadge one by hook or by crook or a bit of artful arson, by all means do so. Can't think of more fun I've had in 80 minutes recently than this." – Broken Leg Reviews

More information about Catherine Léger
EVELYN: You need to stop interacting with the whole damn world as if the whole world sits around all day thinking you're pretty –
MELISSA: I swear to you Evelyn: every time I get into a conversation with you, I end up wishing I didn't.
EVELYN: You can't just be pretty.
MELISSA: I'm not just pretty.
EVELYN: You always seem a bit stunned that you're not riding around in a carriage from Walt Disney...
J'ai perdu mon mari was first produced by Théâtre à Tour de rôle, Carleton-sur-mer. It was directed by Philippe Lambert, with Isabelle Brouillette, Myriam Sophie Deslauriers, and Frédéric Lemay.
Ruby Slippers Theatre premiered I Lost My Husband, directed by Diane Brown and starring Meghan Gardiner, as part of the 2017-2018 season of the Gateway Theatre. This production sold out every single performance. With Raugi Yu, Agnes Tong, and Curtis Tweedie. Photo of Meghan Gardiner by David Cooper.
Persephone Theatre production
Persephone Theatre (Saskatoon, SK) will be producing I Lost My Husband! in October 2019.
My Mother Dog, by Louise Bombardier
A "difficult" woman waits for her two adult daughters to arrive at her deathbed. Meanwhile, all three of them – through dream-like visions of an alternate reality, through memories, through conversations both real and imagined – try to grapple with her impending end. This means confronting the deepest secrets of their hearts – around anger, sexuality, their own mortality – while trying to find some closure within their most complicated relationship. But does any woman really find resolution with her mother?
Cast size: 4F/1M
Originally directed by Wajdi Mouawad at Théâtre d'Aujourd'hui, this darkly powerful expression of the mother-daughter relationship in extremis was published by Playwrights Canada Press as part of Louise Forsyth's landmark collection of work by Quebec women, Anthology of Québec Women's Plays in English Translation (Volume Three).

"We are spellbound by this story, it goes straight to the heart, and we don't come out unscathed..."
Catherine Perrin, C'est bien meilleur le matin, Radio-Canada
"... Depicts that mysterious, subterranean force which often governs mother-daughter relationships in the same way it depicts death: unsparingly. »
Anne-Marie Cloutier, La Presse
"Louise Bombardier delivers an audacious, extreme, stirring play."
J.P. Angers, Métro
"It's a demanding play, a raw play, a violent play, but one that looks its subject straight in the eyes."
André Ducharme, Desautels, Radio-Canada
More information about Louise Bombardier

In the hospital room. The DAUGHTER is stretched out on her sofa. Then a blinding vision: the MOTHER appears, reduced to a head, a monster screaming with rage as she floats above her deathbed…

MOTHER: …The ogress has a taste for children, avenging the childhood she never had. A monster, I'm a monster, I'd love to go for a bike ride with friends my own age. I'm not crazy, just isolated and too young to die and that's what makes me complain so bitterly, I want Santa's sack full of love and I want it before Christmas. I'm an abortion, here's what an abortion is like: it's a child's bad drawing, but alive, rolled up in a ball at the bottom of the toilet bowl, so for God's sake stop trying to clean me up, just pull the chain and flush!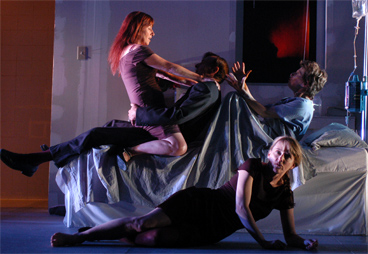 L-R: Julie Vincent, Robert Lalonde, Markita Boies, and Anne Caron
Théâtre d'Aujourd'hui (Montreal, 2005). Directed by Wajdi Mouawad, set by Guillaume Lord, costumes by Isabelle Larivière, lighting by Eric Champoux. Photography by Robert Etcheverry.
Opium_37, by Catherine Léger
[by Catherine Léger: written in association with Érik Jean, and premiered at Théâtre de Quat'Sous]

On the eve of World War II, the Bohemians of Paris are hell-bent on losing themselves in art and sex, like junkies going after their next fix. In a Parisian café, Anaïs Nin and June Miller meet again after spending years apart. There, they share the space with some of Paris's notorious and eccentric artists who are an orchestra of contrasting voices, reflecting on art and misery, creativity and identity, female sexuality and power. They battle with words and wills, a lingering violence in the air. Inspired by the lives of Nin, Miller, and Antonin Artaud, Catherine Léger explores the language of power and the role of art for its creators and the world around them.

Cast size: 5F/3M
Translation commissioned and published by Playwrights Canada Press (2013).
"A critical and popular success when first produced in 2008... Orchestrated like a waltz, the play is a festive and musical exploration of artists and their need to fight, get intoxicated, feel strong and alive, vigorously claim their existence... A vibrant work that will fill [the theatre] Quat'Sous with noise and joy."
– La Presse
Outside, by Gilles Poulin-Denis
(Translation-in-progress of Dehors)
War correspondent Arthur Christopher returns to his remote village after a fourteen-year absence for the reading of his father's will… only to be met by the business end of a rifle held by his younger brother Arnold. As Arthur struggles to break through Arnold's rage and sense of abandonment, he is haunted by the war-torn environment he has just come from… and increasingly, by a vision of a blonde bear roaming the nearby forest. And then there is the young local woman who seems to embody all the contradictions of his birthplace, the ones he had tried to leave behind… In Gilles Poulin-Denis's gripping and epic exploration of the links between violence and alienation, the wars within families mirror our fratricidal modern conflicts between tribes and nations… and there are so many ways to find ourselves "outside".

This powerfully theatrical play by the Governor -General's-Award-nominated author of Rearview and co-writer of Straightjacket Winter was broadcast on Radio-Canada after an acclaimed production that toured three provinces.

Cast Size: 2F/3M with doubling.
Running time: 75-80 minutes.
Dehors was developed at the National Arts Centre (Ottawa, ON) under Wajdi Mouawad, and produced by Hotel Motel, Théâtre d'Aujourd'hui, and the Cercle Molière. This translation-in-development was initially supported by the Glassco Residency in Translation, and workshopped at the Arts Club Theatre (Vancouver, BC) as part of their New Play Festival. It had a public reading on Sept. 14, 2019. The cast: Alessandro Juliani, Kayvon Khoshkam, Pippa Mackie, Kevin McNulty, Adele Noronha, and Alec Willows. Director: Jovanni Sy. SM: Liz King.
"Magnificent poetry" – La Bible Urbaine
"There is a unique colour in Gilles Poulin-Denis' language… that rejoices in being outside the box" – Voir
"In allowing his characters to express the violence of their emotions and fears, Gilles Poulin-Denis lets us glimpse the sort of pain and hurt that can only be relieved by being expressed." – Jeu
Excerpt:
ARTHUR: Arnold! I've come halfway around the planet to be here.

ARNOLD: This place hasn't gone nowhere. It's right where you left it. Anyways, nobody asked ya to come back.
ARTHUR: Would you please stop pointing that thing at me? I'm your brother.
ARNOLD: You're not my brother. My brother doesn't exist. When you left, you got erased from the family. My family is everything on this side of the fence. You're on the other side.
Patrick Hivon and Robin-Joël Cool in the Hôtel-Môtel/Aujourd'hui/Cercle Molière production directed by Philippe Ducros. Photo by Maxime Côté.
Panda Panda, by Larry Tremblay
Big Bunny has kidnapped Petal, the last panda on earth. She is to be held hostage by the Animal Liberation Front! At least, that's where the play begins. Because suddenly the theatre itself is held hostage! Scientist Annette Bonno and her "laugh gangsters" are on a mission to warn the audience and the world : a deadly mutant strain of genetically modified laughter is threatening the whole human race! So whatever you do... DON'T LAUGH!
Cast size: 1F/3M
"Filled with the essence of clowning and of that hyper-visual, physical humour that was the glory of silent films. And so we plunge into a universe à la Chaplin, Keaton, Mr. Bean et Looney Tunes... It's a pleasure to let ourselves sit back and be surprised."
– MonTheatre.qc.ca
Patrick Fleurant, Rénald Laurin
Directed by Robert Drouin for Théâtre en L'Aire (2005). Set by Geneviève Jacques and Anick La Bissonière, costumes by Marie-Soleil Lavoie, props by Geneviève Asselin, lighting by Sylvain Letendre. Photography by Robert Etcheverry.
Tales of the Moon, by Philippe Soldevila
[Translated from Conte de la lune]
Nothing is impossible when you believe in your dreams: a hairbrush can become a ferocious dog, and you can even get the moon to come down into your bedroom. A diary found in an abandoned suitcase carries us back to the 1940s, to a little Catalan village in the heart of Spain. Joan Casesnoves-Durante is ten years old. The war that has torn his country apart is finally over, and after an absence of five years, his father at last returns home. Joan's wild imagination helps him to survive not only the absence of a father imprisoned by Franco's fascists but also the disappearance of his dog – and the fact that he's rotten at math! Years later, his luggage still holds the diary that tells of the Spanish Moon, of lemon trees, and of long forgotten days. Inspired by the short stories of Pere Calders as well as the life story of the playwright's own father.

Cast size: 1F/2M
The original French-language production was the recipient of numerous prizes in Quebec and New Brunswick, including the Masque Award for the best children's theatre production in the province of Quebec (2006)
The English-language version premiered at the National Arts Centre (Ottawa, 2011). Directed by Philippe Soldevila: produced by Théâtre des Confettis. Translated at the Glassco Translation Residency (Tadoussac, QC).
"...offers us a touching fable that goes straight to the heart of father-son relations and a play that is sure to enchant children."
– Le Droit

More information about Philippe Soldevila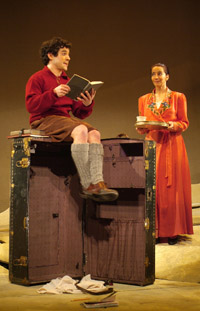 Christian Essiambre, France LaRochelle
Written and directed by Philippe Soldevila. Set and costumes by Luc Rondeau and Erica Schmitz; lighting by Christian Fontaine. Photography by Louise Leblanc. Produced by Théâtre les Confettis at the National Arts Centre (Ottawa, 2011).
The Paradise Arms, by Olivier Sylvestre
[Translated from Olivier Sylvestre's La Beauté du monde, winner of the Prix Gratien-Gélinas, and nominated for the Governor-General's Award for Drama.]
The Paradise Arms was the winner of Safe Words, a national new play competition, in June 2018.

"It's just an ordinary building, sweetie. An apartment building like every other apartment building on the planet... with a mouth, a heart, a liver, lungs, blood vessels, and a spine. An ordinary building." Olivier Sylvestre's poetic and chilling début play follows its hero through a nightmarish existential crisis in a basement apartment... in a building that seems to be trying to swallow its tenants whole...

This new translation, commissioned by Pi Theatre, was supported by the Glassco Translation Residency in Translation in Tadoussac, Quebec (a project of Playwrights Workshop Montreal). It had a public reading on May 18, 2017 at the PTC Test Kitchen in Vancouver. The director was Keltie Brown Forsyth, and the cast was Conor Wylie, Sarah Roa, France Perras, Nathan Barrett, Todd Thomson, and Nneka Croal.
As a finalist in the Safe Words competition hosted by safeword theatre, it also had a public reading on June 1, 2018 at the Tarragon Theatre in Toronto. The director was Eric Benson, and the cast was Scott Emerson Moyle, Amy Keller, Liz Best, Alex Zonjic, M. John Kennedy, and Krystina Bojonowski.

"...Who hasn't ever wanted to just chuck it all? To escape from a seemingly intolerable situation and take time alone, in order to look for oneself, to find oneself? [The Paradise Arms] offers no definitive answers about the search for identity and the absolute, but, thanks to intelligent and thoughtful writing, it does manage to portray the abyss that can engulf us when we question everything."
– montheatre.qc.ca
"For its lyricism, versatility and commitment to artistic risk and innovation." – Jury citation, Safewords New Canadian Play Award
Photos by Eugene Holtz from the world premiere (2015). Produced by Théâtre I.N.K at Théâtre Aux Écuries, Montreal. Directed by Marilyn Perrault. with Benoît Landry as Olivier, Laurence Dauphinais as Marilyne, Marilyn Castonguay as Alexe, and Xavier Malo as Dany.
Tiger By the Tail, by Hélène Ducharme
(Translation of La Crise)

Come on, come on, come on! Days begin full tilt. This morning Mommy is in a real hurry, and Samuel can't figure out why. He just wants to play with his toy tiger. "Go wash your toasts. Your teeth will get cold." Mommy's words are gibberish in Samuel's ears. While his toy tiger is having lots of fun, Mommy bumps into everything and Samuel screams at the top of his lungs. Enough already! Now it's Mommy's turn to have a meltdown.... As tempers grow shorter and shorter, Mommy grows stripes and a tail, and Samuel's toy tiger is becoming less of a toy and more of the real thing... At last, by imagining the mythological story of a goddess of anger and a tiger hunter, Mommy and Samuel discover a way out of the mess they've gotten into! A story about learning to live with the tiger that lives inside of us all.
Cast: 1M, 2F

"... bravo to Hélène Ducharme for her text and for her direction..."
– Voir
Tiger by The Tail by Théâtre Motus and FiguraT S.C.
Wildfire, by David Paquet
(Translated from Le Brasier by Governor-General's Award-winning playwright David Paquet)

Winner of the Prix BMO as well as the international francophone Prix Sony Labou Tansi, nominated for the Prix Michel-Tremblay, Le Brasier has been produced in Belgium, Switzerland, and Canada.
Three very odd triplets are consumed by suffering; an unusual couple is inflamed by love; a lonely woman's heart is kindled by forbidden desire. Somewhere between black comedy and Greek tragedy, this ferocious, poetic, and tightly structured mini-epic is an exploration of heredity and fate that also leaves room for the individual. Doomed to the flames by their very nature, Paquet's seemingly ordinary characters nevertheless choose to struggle against their solitude in ways that are by turns hilarious, touching, and cruel… while managing to remain both relatable and astonishing.
Cast: Six characters can be doubled by as few as three performers.
The first production, at Théâtre d'Aujourd'hui, was co-produced by L'Homme Allumette. Wildfire, the English translation of Le Brasier, was commissioned by Talisman Theatre.
"Both tragic and hilarious, David Paquet's ferociously original Le Brasier is filled with brilliant and surprising insights that communicate the highly sensitive vision of the world of this young Québec playwright." – 7e ciel, Journal Métro

"A work whose comic aspect, mingled with oddness, does not obscure its profound theme ." – Revue Jeu

"David Paquet affirms humanity with unsparing candour." –Mat.tv

"Well done, M. Paquet! Thank you for this infernally lucid play." – atuvu.ca
Le Brasier
This original production at Théâtre d'Aujourd'hui was brought back by popular demand. It later toured the Montréal region, and was remounted at Usine C in March 2019. Directed by Philippe Cyr, it feaured set and costumes by Odile Gamache and lighting by Cédric Delorme-Bouchard. Photo by Julie Artacho. L-R: Paul Ahmarani, Kathleen Fortin, Dominique Quesnel.
Amanda Silveira and Adam Capriolo read Carol and Callum.
A public reading of Wildfire at Playwrights Workshop Montréal in Nov. 2018 was directed by Rachel Peake and also featured Samantha Bitonti. This workshop and reading was produced by PWM in collaboration with Talisman Theatre, which commissioned the translation.
You Are Happy, by Rébecca Déraspe
[Translated from Deux ans de votre vie]
Winner of the Prix BMO: nominated for the Stage West Pechet Family Comedy Award.

You Are Happy had its world premiere at the Great Canadian Theatre Company in Ottawa, ON (September 21–October 08, 2017) Upcoming productions include Blarney Productions (Edmonton, Alberta) and Red Theater Chicago.

Bridget loves her job, her vibrator, and the single life. The only problem? Her brother keeps trying to hang himself in her clothes closet… so Bridget decides to find him a mate in the most unromantic way imaginable: by tricking Chloe, a complete stranger, into signing a contract to be Jeremy's live-in girlfriend. The worst thing is, it's working: Chloe and Jeremy are in love… A smart, malicious, very theatrical comedy about couples, conformity, and love among the Millennials.

Cast size: 2F/1M

This translation was commissioned by Ruby Slippers Theatre and supported by a grant from the Canada Council for the Arts' Theatre International programme. A public reading was presented by BoucheWHACKED! Theatre and Ruby Slippers as part of the rEvolver Festival's Ta Gueule reading series. The director was Diane Brown.

Published as You Are Happy by Playwrights Canada Press, 2016.
"This is a play for our times. Love not only thinks it can get away with anything but in You Are Happy, it actually does."
– Ottawa Tonite
"At its heart always remains our human need for connection and love." – Capital Critics' Circle
"This play is at times painfully funny... 70 minutes of uncomfortable delight."
– apt613.ca
"A reflection on the social pressures brought to bear on single people . . . It doesn't draw conclusions, it's very empathetic, very Québécois, yet also quite tough on prejudices and stereotypes. I found it highly intelligent and very well done." – Radio-Canada
"In the end, it doesn't take much to make a good piece of theatre. You just need a good text, two or three well-chosen props, and actors capable of making you believe their incredible story. Deux ans de votre vie [You Are Happy] brings all of these elements together, but makes its mark above all thanks to the writerly voice of Rébecca Déraspe." – La Presse
"This absurd and refreshing fable written by Rébecca Déraspe . . . is like a cool breeze at the end of summer, and will surely provide an enjoyable evening for lovers of sprightly and intelligent theatre." – Canoe
"It's a piece that blends lightness and substance with dexterity... A must-see." – Le Quatrième
"With a sparse set and witty dialogue, three actors command the stage in this story of forced love." – The Peak

"Complètement charmant." – Vancourier
"Déraspe's writing—in Leanna Brodie's always on-key translation—is sweet and inquisitive… The type of play you come out of thinking you'll send someone to see." – Quebec Reads

"Banigan's Blarney/Dog Heart production enjoys the theatrical style of a comedy that's about the artifice of love. The characters look us in the eye, and set the scene. "I'm in the elevator, and you're in there with me." Is enforced couple-hood, nailed down with research, a workable solution to life's great conundrum, i.e. happiness?" – 12thNight.ca
More information about Rébecca Déraspe
CHLOE: He places his hand on my head
Strokes my hair
Like I've turned into the softest thing in the world
I've turned into
The softest thing
In the whole entire World
And suddenly I'm running on hot sand with my blue dress blowing in the breeze and I don't smoke any more either I'm healthy and I love the hot ocean wind over wide-open landscapes
We're going to kiss in less than three seconds
I'm scared I've forgotten how
I feel like a twelve-year-old at a bonfire
He kisses me
You Are Happy [Deux ans de votre vie]
A short trailer for the Vancouver production of Deux ans de votre vie by Théâtre la Seizième, directed by Craig Holzschuh. Starring Julie Trépanier and Corey Haas.
You Are Happy premieres at Great Canadian Theatre Company.
Katie Bunting and David Benedict Brown, at GCTC, under the artistic direction of Eric Coates. The director was Adrienne Wong; set by John Doucet, lighting by Chantal Labonté, costumes by Vanessa Imeson. (JVL Photo)
Melanie Beauchamp and Katie Bunting.
At GCTC, credits as above. (JVL Photo)
Current and Upcoming Projects
THE DESERT (Olivier Sylvestre): Why am I still in your bed? And will I be there tomorrow? This poetic and physical solo performance speaks of addiction, and also of disorientation… the kind that comes when you're high; when you wake in the middle of the night; when love is leaving you. BoucheWHACKED! has commissioned a translation of Le désert, which premiered to critical acclaim at Théâtre Prospero in 2018 and was published – in a beautiful format that highlights its surreal and poetic quality – by Hamac in 2019. (1M)
TALES OF THE SNOW (Philippe Soldevila): Octavio, an immigrant kid, struggles to fit in with his very homogeneous community… a goal which is not helped by the foreign and eccentric ways of his artist dad. Continuing the story of his family that began with his acclaimed Tales of the Moon, Soldevila's Conte de la neige follows his young hero Joan to Quebec in the 1960s… but now Joan is a father, and we see him from the point of view of his exasperated young son. This autobiographical trilogy takes us through three generations and concludes with Tales of the Sun. This translation has also been commissioned by BoucheWHACKED! Theatre. (2M, 1F).
VIOLETTE (Amélie Dumoulin) The inspiringly inclusive Montréal theatre company Joe Jack et John makes its first foray into virtual reality, with this site-specific, intimate, disturbing look at the life and secrets of an intellectually disabled young woman. (2F plus VR headset)
WHY ARE YOU CRYING? (Christian Bégin) Centred around two disastrous backyard gatherings, this dark yet fiercely funny look at a well-off yet dysfunctional modern family sinks razor-sharp teeth into the shallowness, selfishness, and rampant materialism that form such an existential threat to the playwright's society… and our own. A swan song for the renowned Montréal troupe Les Éternels Pigistes, Pourquoi tu pleures … ? was coproduced with Québec's most prestigious classical company, the Théâtre du Nouveau Monde. My translation has been commissioned by Ruby Slippers Theatre. (3F/3M)
TWO-PART INVENTIONS (Sébastien Harrisson): In this tale of unexpected encounters inspired by the music of Bach, a little girl sets off in search of Africa while a little boy plays hide-and-seek with an invisible companion. What they find is not what they're looking for, but it might be what they need: a friend… Commissioned by Les Deux Mondes, this English-language version of Les inventions à deux voix premiered at Harbourfront's Junior Festival in May 2019. (1F/1M)

VIOLETTE by Joe Jack et John (text by Amélie Dumoulin)