My Mother Dog, by Louise Bombardier
A demanding, difficult, and dying woman waits for her two adult daughters to arrive at her bedside. Meanwhile, all three of them – through dream-like visions of an alternate reality, through memories, through conversations both real and imagined – try to grapple with her impending death. This means confronting the deepest secrets of their hearts – around anger, sexuality, their own mortality – while trying to find some closure within their most complicated relationship. But does any woman really find resolution with her mother?
Cast size: 4F/1M
Originally directed by Wajdi Mouawad at Théâtre d'Aujourd'hui, this darkly powerful expression of the mother-daughter relationship in extremis was published by Playwrights Canada Press as part of Louise Forsyth's landmark collection of work by Quebec women, Anthology of Québec Women's Plays in English Translation (Volume Three).

"We are spellbound by this story, it goes straight to the heart, and we don't come out unscathed..."
Catherine Perrin, C'est bien meilleur le matin, Radio-Canada
"... Depicts that mysterious, subterranean force which often governs mother-daughter relationships in the same way it depicts death: unsparingly. »
Anne-Marie Cloutier, La Presse
"Louise Bombardier delivers an audacious, extreme, stirring play."
J.P. Angers, Métro
"It's a demanding play, a raw play, a violent play, but one that looks its subject straight in the eyes."
André Ducharme, Desautels, Radio-Canada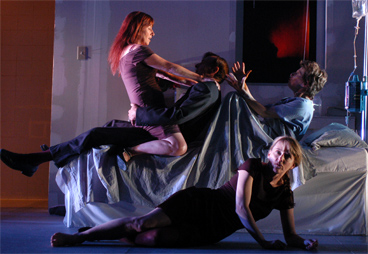 L-R: Julie Vincent, Robert Lalonde, Markita Boies, and Anne Caron
Théâtre d'Aujourd'hui (Montreal, 2005). Directed by Wajdi Mouawad, set by Guillaume Lord, costumes by Isabelle Larivière, lighting by Eric Champoux. Photography by Robert Etcheverry.