For Home and Country
When prickly urbanite Judy inherits her Aunt Kate's little farm, it seems like the perfect time to change everything: to raise her two young daughters in the fresh country air; to hide away from anything connected with her soon-to-be-ex-husband; and most of all, to be alone. Then she meets Lorna.
Lorna, a lifelong local resident (and local historian), reaches out to Judy by introducing her to the story of her beloved Women's Institute. As the pages of Lorna's community history come alive, she spins wonderful tales of women pulling together and beating the odds. But when Judy is finally ready to take a chance on other people again, she discovers that Lorna's enchanted world is not quite what it seemed: and that finding her place in it is going to be more difficult than either of them imagined.
Founded in Stoney Creek, Ontario in 1897, the Women's Institute helped lay the foundations of the modern feminist movement. From their humble beginnings, Women's Institutes spread across Canada and around the world. At their height of popularity, Ontario could boast 1,449 branches with more than 47,000 members; Canadian membership climbed to 87,000 by 1953.

For Home and Country is Leanna Brodie's reclaiming of this unsung and fascinating piece of herstory: It's also a joyful homage to some great Canadian classics of collectively created, populist theatre— from Paper Wheat to The Farm Show —with their emphasis on lives that had not previously been considered worthy of being celebrated on stage.

Cast size: The minimum size is 7F/1M/2 children with doubling. There are many speaking roles, and a chorus of women who can also play multiple characters if desired, so the play can be scaled up if needed.
"Ms Brodie ties together the history of the organization with a compelling tale of two women trying to bridge a generation gap. The play works on two levels: it is a tongue-in-cheek history of the Women's Institute and a tale of a dynamic relationship between two very different women. Somehow, neither story drowns the other out... This isn't so much a play about empowerment as it is about bonding. And that's its strength."
– The Peterborough Examiner
L-R: Nancy Minden, Nauni Parkinson, Susan Newman, Janette Winslow, Whitney Barris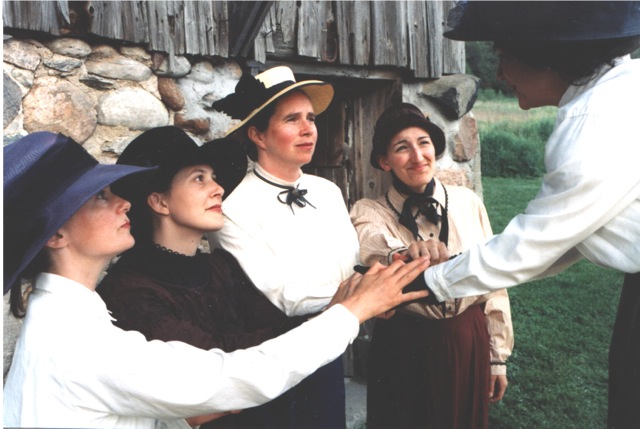 4th Line Theatre 2002 (remounted 2003)
Directed by Robert Winslow, set by David Skelton, costumes by Angela Thomas and Kim Dooley, sets and props by Samantha Turnbull. Photography by Wayne Eardley.