Schoolhouse
The time: 1938. The place: S.S. #1 Jericho School, a one-room schoolhouse in a farming area just outside the fictional village of Baker's Creek. There, a delightful but unmanageable group of children finally meets its match—Melita Linton, an 18-year-old teacher fresh out of Normal School. But Miss Linton soon faces her own challenge in the form of Ewart, a menacing and mysterious juvenile delinquent sent to "straighten out" on a farm after doing time in Battenville Training School. The play chronicles Miss Linton's struggle to connect with a boy cut off from everyone, including himself—and to persuade a cautious and close-knit community to open its arms to this stranger in their midst.
Full of warmth and poignant humour, Schoolhouse evokes a way of life shared by generations of rural North Americans, while exploring timeless themes of exclusion, of compassion, of damage, of hope.

With its flexible cast of 10 or more (two dozen speaking roles can be performed by a mix of adults and children, or by adults doubling as children), Schoolhouse has been embraced by school and community groups across Canada as well as by professional theatres. It remains Brodie's most produced play.

Cast size: 10+, FLEXIBLE.
• In some productions of the play, actors of all ages portay the children, and then double as their own parents. The minimum number of performers in this scenario is 10.
• In other productions, 7 children (ages 5-17) play the students, while a minimum of 6 adult actors (3F/3M) play all the other characters.
• Age, gender, ethnicity, and disability are particularly flexible in this play.

"Under the (quite-skilled) storytelling, the play is an exuberantly theatrical and moving tribute to the schoolhouse itself, filled with memories and local details distilled from Brodie's extensive interviews with former teachers and students who shared the experience of the one-room school."
– Canadian Literature

"A moving piece that brought the audience to its feet."
– The Ottawa Citizen
"A thoughtful … well crafted … beautifully inspired piece. Like Blyth Festival, Schoolhouse is a Canadian story. It is an excellent choice to mark the theatre's 100th milestone."
— The Blyth Citizen
"Playwright Brodie has penned an inspiring, metaphoric work that deals with issues of rejection, isolation, compassion and hope."
— The Sault Star
"Its appeal proved enchanting, not only to those who remember the one-room schoolhouse, but to all who have attended this vibrant production."
– The Valley Gazette
"Leanna Brodie's rollicking Schoolhouse may be new to the Blyth Festival, but it is clearly already an audience favourite."
– Clinton News-Record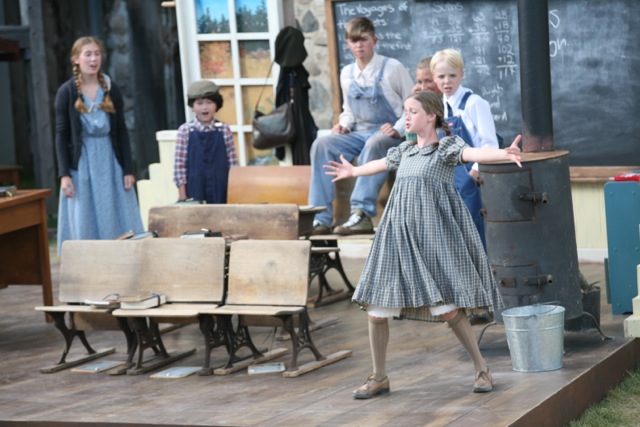 L-R: Emilie Spasov, Anika Spasov, Jake Vanderham, Nora Hickey, Cody McMahon
Will Lamond, Griffin Clark
4th Line Theatre (2007, remounted 2008)
Directed by Kim Blackwell. Costumes by Angela Thomas. Photography by Wayne Eardley.
Festival Players of Prince Edward County (2009)
Directed by Jennifer Brewin, with Christine Brubaker as Miss Linton. Set design by Glenn Davidson, and costumes by Jennifer Triemstra-Johnson. Photography by Michael Grills.