Ulla's Odyssey
Composer: Anthony Young

Fourteen-year-old Ulla is attempting to become the youngest person to sail the world single-handedly in her trusty sailing boat 'The Homer', with only her cat Binnacle to keep her company as she navigates the high seas.
All is not plain sailing, as our heroine encounters mythical creatures and obstacles on her journey, including Cy-ops, a one-eyed, over-keen robotic customs official who mistakes her cat for smuggled contraband, and Sylla, a dangerous sea creature whose body and mind have been horribly twisted by radioactive rubbish dumped into the ocean. Meanwhile the voices of the Sirens, Ulla's friends and family, call out to her from across the waves, tempting her to give up her lonely voyage and come home. A family-friendly fantasy, inspired by Homer's Odyssey and by the modern teenagers who have sailed around the world. Winner of both the Opera Factory New Works competition (2012) and the Flourish Prize (2014).

New Zealand composer Anthony Young and I developed this opera for children in two stages: a short initial version was directed by Sally Stroman at Opera Factory (Auckland, NZ), and then the full-length version was developed with director Lynda Hill at Theatre Direct (Toronto, Canada). The final piece, directed by Valentina Ceschi, was premiered by the Olivier Award-winning OperaUpClose at Kings Place (London, UK)
Composer Anthony Young
Librettist Leanna Brodie
Director Valentina Ceschi
Musical Director Alex Beetschen
Set and Costume Designer Faye Bradley
Puppet Designer and Director Matt Hutchinson
Lighting Designer Nicholas Holdridge
Assistant Director and Graphic Designer Camilla Ceschi

Having received the largest grant in its history to roll out an educational programme for Ulla's Odyssey, OperaUpClose is touring this beautiful original production throughout the UK in 2016-17. For rights beyond the UK, please contact my agent.



"clear, involving story-telling… a children's opera approached with grown-up values."
– The Stage
"...a very contemporary, classical-sounding score… I am mesmerised by the opera's style... The music trickles beneath the voices like a gentle current… The array of 7-10 year olds in the theatre can't take their eyes off Sarah Minns' chummy Ulla... Most barely move a muscle…"
– Fringe Opera
 
Sarah Minns, Pamela Hay, Flora McIntosh, Oskar McCarthy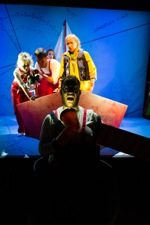 Sarah Minns as Ulla, Flora McIntosh as the Goddess of the Sea
Oskar McCarthy, Pamela Hay, Binnacle the cat (designed by Matt Hutchinson). All photography by Christopher Tribble.